Introduction
The PEXUSB3S24 2-Port PCI Express USB 3.0 Card lets you add two USB 3.0 ports to your PCI Express-enabled computer system, with an optional SATA power connector to connect to your system power supply and deliver up to 900mA of power per port to USB 3.0 bus-powered devices (500mA for USB 2.0).
Enhanced with UASP support (USB Attached SCSI Protocol), this USB 3.0 controller performs up to 70% faster than conventional USB 3.0 when paired with a [%group id="114" text="UASP supported enclosure" append_qs="filter_UASP_YN=Yes"%] (Note: UASP is not supported by all operating systems). Using a more efficient protocol than the traditional USB BOT (Bulk-Only Transport), UASP technology optimizes transfers by allowing multiple commands to be processed simultaneously, significantly increasing transfer speeds for less wait time on data transfers. See our UASP test results below for further details.
The PCIe USB 3.0 adapter is compliant with USB 3.0 standards for data transfer speeds up to 5 Gbps, while still offering backward compatibility with existing USB 2.0 / 1.1 devices. For added versatility, the controller card is equipped with a standard profile bracket and includes a low-profile/half-height bracket for installation in small form-factor computers.
Backed by a StarTech.com 2-year warranty and free lifetime technical support.
Improved Performance with UASP
UASP is supported in Windows 8, 8.1, Server 2012 and Linux kernel 2.6.37 or later. In testing UASP performed with up to a 70% faster read / 40% faster write speed over traditional USB 3.0 at peak performance.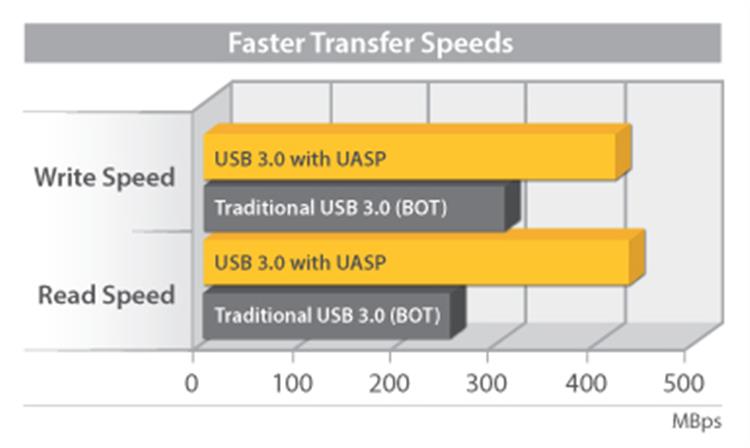 At the same peak in testing, UASP also showed up to an 80% reduction in required processor resources.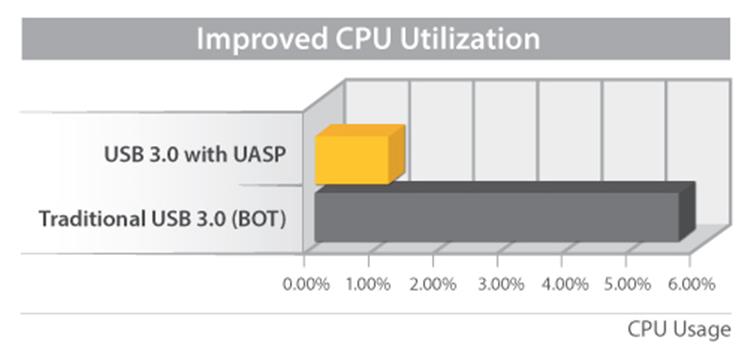 Test results were obtained using an Intel Ivy Bridge system, StarTech.com add-on USB 3.0 cards, a UASP-enabled StarTech.com enclosure, and a SATA III solid state drive.
Benefits

Increase efficiency of your USB 3.0 devices with up to 5 Gbps of bandwidth
Fits into full or low-profile/small form factor (SFF) systems, with a dual profile design
Power high-powered USB devices as necessary, with the optional SATA power connector

Features

Provides two external USB 3.0 ports with UASP support
Supports data rates up to 5 Gbps
Compliant with PCI Express 2.0 specifications
Optional SATA power connector provides up to 900mA per USB port
Supports USB Battery Charging Specification 1.2
Fully compliant with USB 3.0 rev 1.0 and Intel xHCI rev 1.0 specifications
Backward compatible with USB 2.0 and USB 1.0/1.1 devices
Includes a Low-Profile/half-height installation bracket

Specification
Connector Type(s): PCI Express x1 Male
Internal Ports: SATA Power (15 pin) Plug
External Ports: USB Type-A (9 pin) USB 3.0 Female
Operating Temperature: 5°C to 50°C (41°F to 122°F)
Storage Temperature: -25°C to 70°C (-13°F to 158°F)
Humidity: 20-80% RH
Ports: 2
Interface: USB 3.0
Bus Type: PCI Express
Card Type: Standard Profile (LP bracket incl.)
Port Style: Integrated on Card
Industry Standards: USB 3.0 Specification Rev. 1.0
Chipset ID: Renesas/NEC - µPD720202
Shipping (Package) Weight: 130 g [4.6 oz]
Maximum Data Transfer Rate: 5 Gbps
Maximum Cable Length: 3 m [9.8 ft]
Type and Rate: USB 3.0 - 5 Gbit/s
UASP Support: Yes
Product Length: 65 mm [2.6 in]
Product Width: 18 mm [0.7 in]
Product Height: 120 mm [4.7 in]
Product Weight: 40 g [1.4 oz]
OS Compatibility: Windows Vista, 7, 8, 8.1, 10
System and Cable Requirements: Available PCI Express slot
Note: The maximum throughput of this card is limited by the bus interface. If used with PCI Express Gen 1.0 enabled computers, the max throughput is 2.5 Gbps. If used with PCI Express Gen 2.0 enabled computers, the max throughput is 5 Gbps.
Included in Package: PCI Express USB 3.0 Card
Low Profile Bracket
Driver CD
Instruction Manual